UPCOMING SHOWS/SELECTED PAST
12/12/2012
2017

Ridgefield Guild of Artists 40th Annnual Juried Show, 2nd Prize for Blue, White, Aubergine and Amber, an oil over watercolor, sealed, 24 x 24 inches. Juror, Lisa Hayes Williams, Curatorial Assistant to the Director of The New Britain Museum of American Art. September 23 - October 22nd.

40th Annual Member Show, Carriage Barn Arts Center, New Canaan, CT
September 10 - October 7th.

Blooms in Light, A Show of Contemporary Florals, The Sidewalk Gallery, Solo Show, 18 South Main St, Norwalk, CT 06854. June 25 - August 7.

Inspired by Ridgefield and Other Paintings, Ridgefield Playhouse, solo show,
June 11.

Ridgefield Guild of Artists Juried Member Show, Juried by Helen Kauder, Executive Director at Artspace in New Haven, CT. Opening Saturday, May 13 from 4 - 6 pm, show runs from May 13 - June 18.

Ridgefield Guild of Artists Open Studio Day, Saturday, April 22. My studio will be open to those who buy tickets from the Guild, rgoa.org for information and tickets.

Spectrum: 2017 Grayscale, Juried by Adrienne Ruger Conzelman of ARC Fine Art, Carriage Barn Arts Center, New Canaan, CT. Show runs April 22 - May 25.

Pop Up! Westport Artist Collective Group Show, The Westport Arts Center, CT, April 6 - 8.

Bedlam!, Member show at the Ridgefield Guild of Artists, April 1 - 30, Ridgefield, CT.

Different Textures, Invited Five Artist Exhibition at Memorial Sloan Kettering Westchester, West Harrison, NY. Curated by Kimberlyn McKoy through Arts Westchester, NY. Feb. 27 - Sept. 30, Artist reception April 18, 6 - 7:30 pm.

Appetite for Art, Juried Show Benefitting the Ruth Keeler Library, NY at
St James Village Hall, 296 Titicus, North Salem, NY. March 31 - April 9th,
Reception March 31, 5 - 8 pm.

Expressive Women of NAWA, Juried Show at the Ridgefield Library in conjunction with the National Association of Women Artists, NYC. Curated by Cynthia Mullins, NAWA member, Jill Baratta, NAWA Exhibitions Chair and Laurie Bachmann, Ridgefield Library Adult Program Assistant. Opening Sunday, March 5th, 3pm. Show runs until March 30th.

Coast to Coast East, Juried Show of the National Assocation of Women's Artists
at Prince Street Gallery, 530 W 25th St, NYC 10001. Juror, Margaret O'Reilly, Executive Director and Curator of Fine Art, New Jersey State Museum. March 2nd, Opening Reception 5-8 pm, show runs from Feb. 28th - March 25th.
https://www.arthaps.com/show/women-artists-coast-to-coast---east-1

Hot and Cold, Ridgefield Guild of Artists Member Show. Opening Saturday, Jan. 21 4-6pm. Show runs to Feb. 12, 2017.

2016
Selected work at Festive Home @ the Ridgefield Guild of Artists, 34 Halpin Lane, Ridgefield, CT. Nov. 19 - Dec. 23, 2016.

A Sight for Sore Eyes, an online juried show of the National Association of Women Artists. See it @ http://www.nawaonlinegallery.org/index.php, Oct. 10, 2016 - Jan. 1, 2017.

36th Annual Faber Birren National Color Award Show, Opening Sept. 25th
4-6 pm. at the Stamford Art Association, 39 Franklin St, Stamford, CT. Show runs until October 27. Juried by Michele Wijegoonaratna, PhD., Modern & Contemporary Art Department Research Associate, Metropolitan Museum of Art, NY.

Carriage Barn Arts Center Member Show, on view Sept. 24th - Oct. 30th
681 South Avenue, New Canaan, CT 06840.

The Solstice, A Group Show of Four Artists, Opening June 10th 5-7 pm.
Keeler Tavern Museum Barn Gallery, 132 Main St, Ridgefield, CT
Show runs from June 10th - June 19th.




Spectrum, Natural Inspiration - Juried Show, April 9 - May 26
Carriage Barn Arts Center, New Canaan, CT
Juried by Gabriel de Guzman of Wave Hill Public Garden, Bronx, NY.
*Awarded Best in Show

Ridgefield Guild of Artists Juried Member Show, April 2 - May 1
Juried by Robbin Zella, director and curator at the Housatonic Museum of Art in Bridgeport, CT.

Bedlam, Ridgefield Guild of Artists Show, Feb - March 13th

An Appetite for Art, Juried Show
The Hammond Museum, North Salem, NY
Benefit for the Ruth Keeler Library
February 5th & 6th

Ridgefield Guild of Artists Member Show, Ridgefield, CT
34 Halpin Lane, Ridgefield, January 23rd - February 14th

Inspired by Ridgefield, Solo Show, Rockwell Art and Framing
470 Main St, November 21, 2015 - February 6, 2016

2015
Inspired by Ridgefield, Solo Show, Rockwell Art and Framing
470 Main St, Ridgefield, CT
November 21 - February 6th

Festive Home, Show and Sale, Ridgefield Guild of Artists
Selected paintings
Show runs until December 23rd

The National Association of Women Artists New Member Show
NAWA Gallery, 80 Fifth Avenue, Suite 1405, New York, NY 10011
Show run November 5 - December 1

POP UP! Westport Artists Collective Group Show, Nov 5 - 8
Westport Arts Center, CT

Ridgefield Guild of Artists 38th Annual Juried Show, Ridgefield, CT
Sept - Oct

In Bloom - Solo Show, Sarah's Wine Bar, Upstairs @ Bernards
20 West Lane, Ridgefield, Ct May - Oct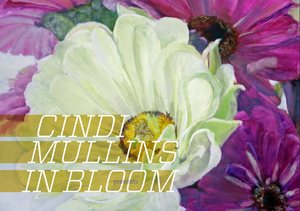 "Va Va Voom, The Art of the Vehicle" -Juried Show , Carriage Barn Arts Center, New Canaan, CT April - June

The National Association of Women Artists Member Show
The Sylvia Wald Po Kim Art Gallery, NYC

Bedlam - Ridgefield Guild of Artists Member Show, Ridgefield, CT

2014
Small Works, Solo Show, The Ridgefield Guild of Artists, CT

Ridgefield Guild of Artists 3rd Annual Juried Member Show, CT

22nd Annual Art Show of the Junior League of Eastern Fairfield, Invited Show
Fairfield, CT

Re-Imagined, Invited Show, Ridgefield Guild of Artists, CT

Mark Twain Library's 42nd Juried Art Exhibition, Redding, CT Juried by Charles Ray

2013
Painting the Merritt: Cynthia Mullins Celebrates the Parkway, Invited Exhibition
Westport Library, Westport CT May - July

The Women, Invited Show, Ridgefield Guild of Artists, CT

The Merritt Parkway Paintings, Solo Show at the Absolut Gallery,
The Inn at Newtown, CT

Mark Twain Library's 41st Juried Art Exhibition, Redding, CT. Juried by Charles Ray

Art for Health Gallery, Invited Show, Hudson Valley Hospital Center, NY

2012
By Way of Merritt, Solo Show, Nylen Gallery, Westport, CT

Collaborations, Featured Artist, The Lockwood-Mathews Museum, Norwalk, CT

Ridgefield Guild of Artists 35th Annual Juried Exhibition, Juried by Steve DeFrank
*Honorable Mention

American Pastoral, Juried Show, The Carriage Barn Arts Center, CT

Ridgefield Guild of Artists 2nd Annual Juried Members Show, CT

Five Upstairs, Group Show, Sarah's Wine Bar Upstairs @ Bernards, CT

Harvests, Invited Group Show, Gilbert and Bennet Cultural Center, Wilton, CT

2011
The Skies Above, Solo Show, Rockwell Art and Framing, Ridgefield, CT

The Guild Group, Group Show, Rockwell Art and Framing, Ridgefield, CT

Reflections through a Windshield: Painting the Merritt and Wilbur Cross
Solo Show, Sarah's Wine Bar Upstairs @ Bernards, Ridgefield, CT

Mark Twain Library's 39th Art Exhibition, Redding, CT

2010
Expressions, Solo Show at Barbel's, New Canaan, CT

Silvermine Juried Student Exhibition, Silvermine Gallery, New Canaan, CT
*Honorable Mention for Pastel

2009
The Merritt Parkway, Solo Show, The Merritt Parkway Museum, Stratford, CT

Housatonic Valley Cultural Alliance Juried Art Exhibiton, Danbury, CT

The Gift of Art, Invited Show, Paul Gervais Gallery, Ridgefield, CT

Silvermine Juried Student Exhibition, Silvermine Gallery, New Canaan, CT
*Honorable Mention, for mixed media